Tillions is a new pastime. Tillion magnets are made to go together to make billions of pleasing patterns. Tillions are for everyone - old, young, every language, every ability.
Tillions is a gentle, mindful, de-stressing pastime. It is designed so that all of the pieces fit each other to make innumerable pleasing patterns.
If you already have Tillions, you might like to see some suggested games and pattern schemes on the following pages.
If not, you can buy your set of Tillions at www.happypuzzle.co.uk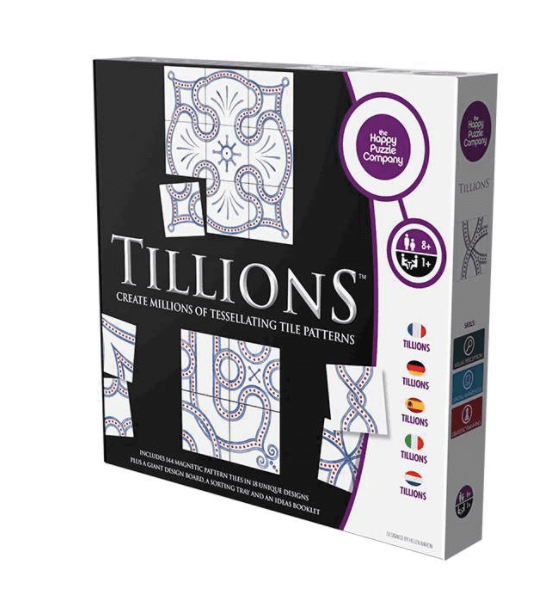 Tillions are now being made by The Happy Puzzle Company.
Every one of the 144 patterned magnetic tiles in this new box of Tillions fts with every other, to make millions of unpredictable new designs. Until you try them it's hard to believe how patterns form and shift with every change. Tillions are for everyone - perfect for designers, mathematicians, artists, planners, thinkers and dreamers.
The box contains a fold-out board, an organising tray and a booklet of ideas.
Tillions will also work with any magnet-receptive surface. such as a refrigerator. Box size approx 27x27cm
This box of Tillions is no longer available, but the film shows you how the patterns can develop